Fibres Threads and Fabrics: Textiles and Cloth as Material Culture
   Friday 28th October 2022
     London College of Fashion,
     20 John Princes Street,
     London, W1G 0BJ
     9.30am – 8.pm
     Registration from 9am
Understanding material cultures from the African Diaspora is to recognise and appreciate how different objects, designs and structures create and impact the experiences of the myriad communities in which they form the building blocks. The theme for CIAD's second dress conference focuses on how the development and use of cloth signify aspects of material culture within African Diaspora communities.
Communities borne within or with heritage to the African continent have used cloth and different textiles as currency, as socio-cultural statements, as a way to subvert political discrimination and as a way to align with particular group affiliations. Historically, having access to great swathes of well-made, luxurious cloth was a way to determine the wealth or merit of a person. Today we can still see how cloth is used amongst people of African heritage to wrap the body or head.
In this current era of decolonialism, we are learning more about the process of cloth creation and the significance certain cloth has to some communities over others. This knowledge helps us understand that cloth can be incredibly political and attempts to reclaim historical practices once demonised and disenfranchised by colonialism can become even more fractured without a full understanding of the cloth one chooses to use as a symbol of pride. The history and legacy of colonialism can often be told through the development of the cloth used in the African Diaspora.
Fibres, Fabrics and Textiles, CIAD's second dress conference, brings together researchers and practitioners from across the world to discuss the engagement of cloth and textiles in their chosen communities of research and or practice.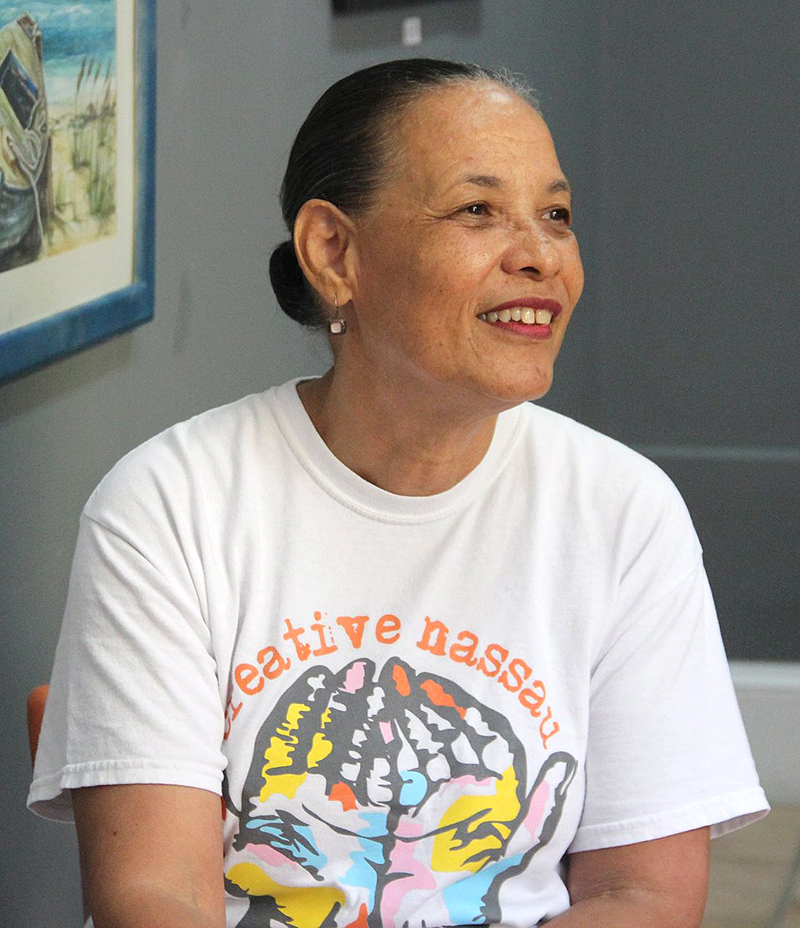 Pamela Burnside
A tru, tru Bahamian.
Paper: Straw Craft and Material Culture of the Bahamas – An analysis of the history and development of Bahamian straw weaving.
Pamela Burnside is a Bahamian cultural advocate. She is the owner and manager of Doongalik Studios Art Gallery, a creative exhibition space and fine art retail store founded in the 1970s with her late husband, Jackson Burnside III to expose the world to the unique elements of Bahamian art and culture. 
She holds two degrees, in English and Fashion and Textiles from McMaster University in Hamilton, Canada, and St Martin's School of Art (Central St Martin's) in London, England. 
Pam is a founding member and Secretary of Transforming Spaces, a registered non-profit organization which hosts an annual Bahamian art tour; and President of Creative Nassau, another registered non-profit community organization that, in 2014, was one of the first in the region to secure membership for the City of Nassau to designated as a City of Crafts and Folk Art in the prestigious UNESCO Creative Cities Network which is comprised of 246 cities in over 50 countries around the world. 
Email: creativenassau@gmail.com 
Aymê Okasaki 
Paper: Asó Oke fabric and the Panos da Costa in Brazilian candomblé – seeking to understand the connection between Brazilian candomblé and its African identity through the African fabrics used in ritual garments and their reproduction in Brazil.
Aymê is a lecturer on the fashion courses at the University of Sorocaba and a PhD candidate in Social History at the University of São Paulo. She holds a BA and MA Textiles and Fashion from the University of São Paulo, and a BA in Visual Arts from the Faculty of Administration and Arts of Limeira. 
Email: ayme.okasaki@usp.br
Keiphe Setlhatlhanyo 
Paper: 'Mojamboro' the Yei/Mbukushu Material Culture in Botswana: A Potential for Future Contemporary Fashion – This paper examines the characteristics of Mojamboro bead wear of  the Yei/Mbukushu  people and discusses the motifs, patterns, cultural significance and symbolism and the possibility to be explored in light of contemporary design. 
Keiphe is a lecturer in the Department of Industrial Design and Technology at the University of Botswana and a Ph.D. candidate in Design at the University of Leeds. She holds an MA in Product Design Innovation Management from Nottingham Trent University and a Bachelor of Design from the University of Botswana.
Email: sdkns@leeds.ac.uk
Alexandra Grieve 
Paper: Fabricating Slavery in Daughters of the Dust (1991) and Lemonade (2016) – This paper proposes to read fabric as a meaningful technology for negotiating the precarity of contemporary African American life often underscored by state-inflicted violence.
Alexandra is a Gates Cambridge Scholar and a PhD candidate in the Centre for Film and Screen Studies at the University of Cambridge. Her doctoral research explores costume and material culture in African diasporan cinemas, with a particular emphasis on works by women filmmakers and visual artists. This follows on from her MPhil thesis, which focused on recent work by North African and Lebanese female filmmakers.
Email: asg56@cam.ac.uk
Precious Lovell
Paper: Warrior Women: The Transformative Culture of Cloth in Bahia – Exploring the development of  her "Warrior Women of the African Diaspora" series which was the outcome her fellowship at the Instituto Sacatar in Itaparica, Bahia, Brazil.
Precious is an artist, designer, maker and educator. She holds a Master of Art and Design with a Fibers and Surface Design concentration and a BFA in Fashion Design. She is currently the Brightwork Fellow at Anchorlight Studios in Raleigh, NC. Her sociocultural creative practice explores the narrative potential of cloth and clothing. The cultural significance, narrative, aesthetic, and technical qualities of traditional textiles and clothing, particularly those of the African Diaspora, heavily influence her work. Previously, a fashion designer and Associate Professor, Precious has presented lectures at universities, museums, national and international conferences on clothing and cloth of the African Diaspora. She has been granted international artist residencies and has travelled to 45 countries researching and collecting textiles and clothing. Precious' work has been exhibited in the US and internationally.
Instagram: @preciousdlovell
Website: preciousdlovell.com
Charlotte Hammond
Paper: Makout Sacks and Straw Hats: countering colonialist models of education and craft production in Haiti and Curaçao – This paper will examine the history of post-extractive modes of straw work and tacit craft knowledge as tools of self-defence against slavery and the abuses of modern colonial society.
Charlotte is a Lecturer in French Studies at Cardiff University. She is the author of Entangled Otherness: Cross-Gender Fabrications in the Francophone Caribbean, published with Liverpool University Press in 2018. Her more recent research has examined the transnational textile industry in Haiti and the Dominican Republic, with a focus on modes of solidarity and creative resistance deployed by second-hand clothing and garment assembly workers to challenge labour exploitation within global supply chains. Hammond is currently co-developing a self-guided heritage walk in mid-Wales to explore the connections between Welsh wool and Atlantic slavery.   
Instagram: @cahammo
Siobhan Meï (PhD)
Paper: Global Patterns of Exchange; Mapping Translations of Madras Fabric in Caribbean Literature – This paper considers the relationship between madras fabric and Afro-Caribbean identity through the lens of literary translation, mapping how translators have historically rendered madras (as a trade-fabric and a style) in the global languages of English, Spanish, and Kreyòl.
Siobhan is a lecturer in the Manning College of Information and Computer Sciences at the University of Massachusetts Amherst. Siobhan's research focuses on Haitian literature and history as well as the intersections of fashion and fiction in the Atlantic World. Her writing and research have appeared in Mutatis Mutandis, SX Salon: Small Axe Project, Callaloo, The Fashion Studies Journal, Caribbean Quarterly, and The Routledge Handbook on Translation, Feminism, and Gender, among other places. Siobhan is the co-founder of the digital humanities project Rendering Revolution: Sartorial Approaches to Haitian History. 
Instagram: @siobhanmei
Digital Humanities Project Instagram: @renderingrevolution
Victoria de Lorenzo
Paper: Connectingthreads.co.uk: Developing Subaltern Histories of Global Textiles for the Wider Audiences – This paper will discuss the Connecting Threads Project, an interactive, public-centred digital resource built on connecting collections,  de-centring fashion history and disentangling the phenomenon of Madras whose consumption by Black communities in the Caribbean impacted Indian handloom production and trade and fostered British power loom competition.
Victoria is one of the two Research Assistants engaged in Connecting Threads; she also works as Fashion Cultures Tutor at Manchester Metropolitan University. Victoria (BA. Hons, BA Hons., MA) is currently completing her PhD at the University of Glasgow, where she specialises in the Anglo-Hispanic textile trade during the nineteenth century. However, her expertise in textile history encompasses the eighteenth to the twentieth centuries. She is interested in the materiality of textiles as economic agents of cultural change in circulation processes. Her first article was published in Fashion Theory; previously, she had published reviews in the journals of Textile History and Fashion Theory, among others.
Twitter: @connectthreads
Website: https://connectingthreads.co.uk/
Screening of the wax print documentary – Wax Print – 2018 by Aiwan Obinyan
Wax Print trailer below: